Vitamin C is a vitamin that isn't produced by the body and the only way to get it is through supplements or your diet. Citrus fruits like kiwi and oranges are rich in vitamin C. Vitamin C has vital functions throughout the body. This vitamin C is an essential nutrient in tissue repair.
Vitamin C is the one of the most effective topical antioxidants in skincare. Vitamin C is an antioxidant, that means it protects skin cells from damaging free radicals caused by UV rays. It also inhibits the melanin production in the skin, which helps to reduce hyperpigmentation and brown spots. Vitamin C even out skin tone and enhances skin radiance. Vitamin C helps to recover skin damage caused by sun exposure and collagen loss by encouraging healthy cell turnover.
Vitamin C products can be used once or twice daily in the form of serums, powders, moisturizers, eye creams, masks, and essences. Few of them are listed below:
Vitamin C powder:
Powdered vitamin C is a new product on the market, but it has been gaining so much popularity recently. This vitamin C powder can be mixed with serums or moisturizers to protect your face from harmful UV rays and reduce signs of aging. This vitamin C increases collagen production in your skin as well.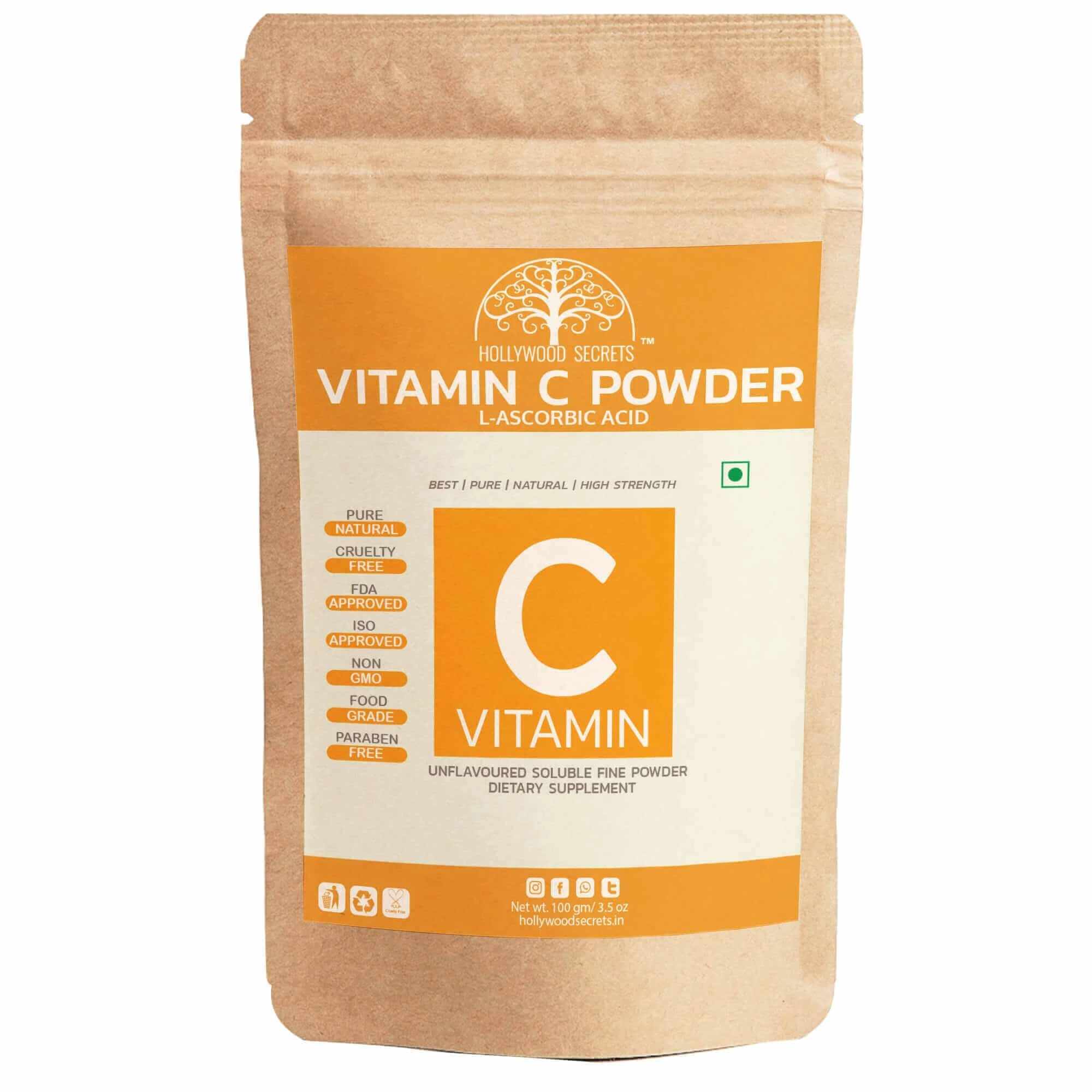 This powder can be used for external and internal use as well. This vitamin C powder is completely organic, pure, and natural.
Few benefits of vitamin C powder:
This vitamin C powder helps in skin lightening and brightening.

It is used for hyperpigmentation.

It treats acne and reduces acne scars.

Used for reducing dark circles.
Combinations to try:
Mix this vitamin C powder with hyaluronic acid.
This mixture helps to replenish skin, boost hydration, and improve skin's elasticity.
Mix this vitamin C powder with retinol.This is the best combination for anti-aging.
Vitamin C Serum:
When it comes to treating dark spots and skin-tone balancing issues, vitamin C serum should be your go-to choice. Vitamin C serum helps to even out your skin tone and gives you a fresh feeling . It's an antioxidant and is safe to use. It also helps with tissue repair, healing, and keeps your skin healthy and naturally glowing.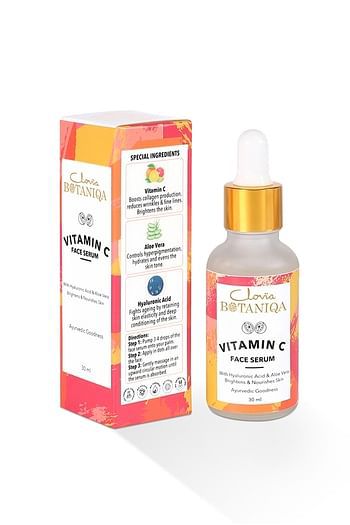 This vitamin C serum is highly rich in natural antioxidants and hydrants making skin brighter, even-toned, and radiant. This serum reduces wrinkles and controls hyperpigmentation, and hydrates skin all day long. It also fights ageing by retaining skin elasticity and deep conditioning of the skin.
How to use it?
Apply this serum every night before going to bed and wake up with naturally glowing skin.
Step1: Wash your face and pat dry.
Step 2: Take a few drops of Clovia Botaniqa Vitamin C Serum on fingertips.
Step 3: Apply in dots all over your face and neck and massage in a circular motion and let it dry.
Vitamin C Moisturizer:
Moisturizers that have vitamin C promote collagen production have the capacity to thicken the dermis, diminish fine lines, and are essential for firm and youthful skin.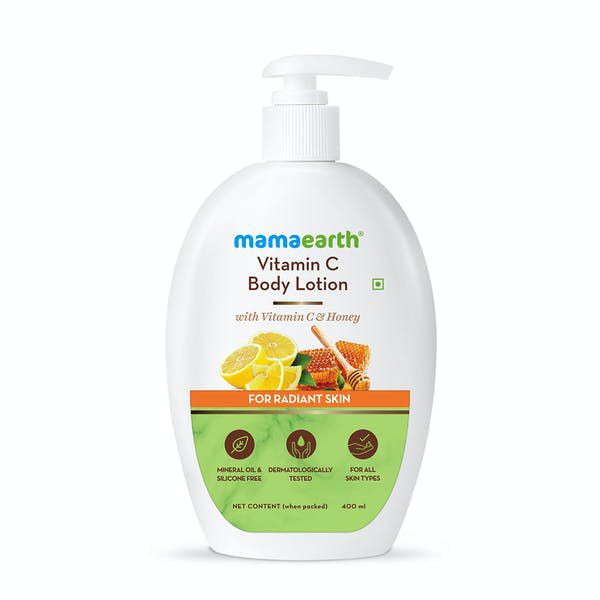 Say hello to beautiful radiant skin with Mamaearth Vitamin C Body Lotion. This moisturizer nourishes, soothes, and boosts collagen deeply to give you radiant and naturally glowing skin all day long. Vitamin C protects the skin from free radical damage and evens out skin tone. The fresh and non-greasy formula will give your skin the long-lasting hydration all day long.
How to use it:
Step 1 : Pump out some amount of body lotion on your palm.
Step 2 : Gently massage the lotion all over your body until it's completely absorbed.
Step 3 : Reapply whenever your skin feels dry.
Vitamin C Eye Cream:
Vitamin C is a collagen booster. So the addition of vitamin C eye cream to your skin care routine can help thicken the delicate under-eye area and helps to conceal discoloration and wrinkles.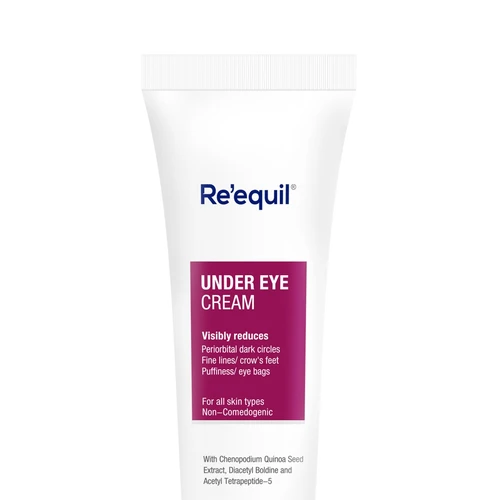 This vitamin C eye cream reduces blue and red periorbital pigmentation or dark circles and minimizes sagginess, puffiness, crow's feet, and wrinkles. It tightens the under eye area and makes eyes youthful.
How to use it:
Squeeze out the required amount onto your ring finger tip.
Apply gently onto the under eye area and gently massage in outward to inward direction till it sinks into the skin.
Vitamin C Face Masks:
Face masks that have vitamin C as an ingredient helps in reducing redness and even out your skin tone perfectly. It helps in reducing hyperpigmentation. It also helps in reducing the appearance of under-eye circles.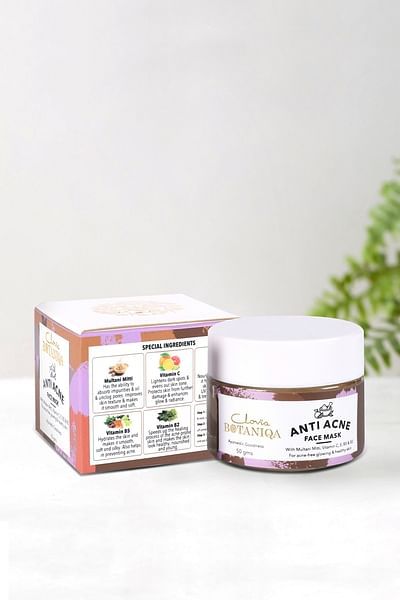 This face mask is enriched with organic extracts like fuller earth, Vitamin-C, E, B5, and B2 for naturally glowing and perfectly healthy skin. The vitamin C present in this face mask protects skin from harmful UV damage and improves glow and radiance.
How to use it:
Pro Tip: Use once a week for clear acne-free skin.
Step 1: Apply a thin layer of Clovia Botaniqa Anti Acne Face Mask evenly over cleansed face & neck and avoid the eye area.
Step 2: Give it about 10 minutes to dry completely.
Step 3: Gently remove with lukewarm water and pat dry using a clean and soft towel.
Vitamin C in any form i.e. internally or externally is extremely beneficial to skin. Vitamin C improves skin texture and makes you look younger. The above mentioned products can definitely make your skin healthy and naturally glowing. What are you waiting for? Go add them to your skin routine ASAP!